Prone Positioning For Acute Respiratory Distress Syndrome (ARDS)
For many patients suffering from Acute Respiratory Distress Syndrome (ARDS) the recommended sleep position is on the stomach or face down.  This position is often called the Prone Position and can increase the amount of oxygen that is getting to the patient's lungs thereby improving the recovery process.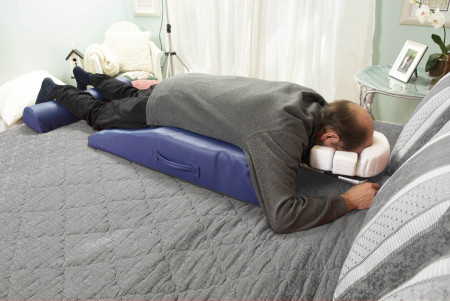 First reported in 2013, the prone position for ARDS sufferers, even those on a ventilator, has been shown to improve gas exchange over patients in the supine position.
And now, with the advent of the COVID-19 (coronavirus) pandemic across the world the number of patients with ARDS has increased dramatically.
However, many patients cannot sleep in the prone position without help in the form of sedation.
The EZ Sleep System from McFee Technologies is specifically designed and engineered to allow the patient to spend long periods of time in the prone position.  It has been used for years in doctor-mandated face down post-operative recovery from eye surgery.
The EZ Sleep provides three important positioning attributes:
The EZ Sleep helps prevent lower back ache by slightly elevating the head and upper torso which puts the body in a very slight crouching position.
The EZ Sleep lifts the face off of the pillow or mattress creating an air gap which aids in breathing, allows room for the ventilator mask and helps prevent a claustrophobic feeling.
The EZ Sleep "locks" the patient in a prone position preventing rollover during sleeping.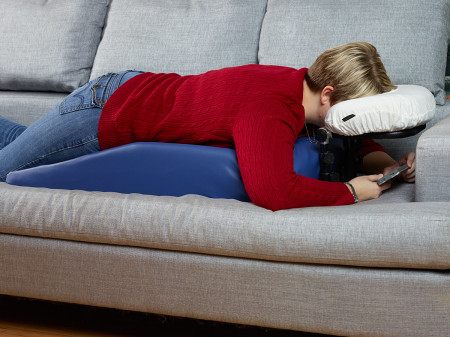 The EZ Sleep System for ARDS prone positioning is available for purchase and comes complete with the frame, body cushion, leg bolster and disposable face crescent cushion.  The frame is manufactured from lightweight aluminum and the body cushion and bolster use high density foam covered in anti-microbial vinyl for easy cleaning.  The disposable face cushion uses a comfortable soft foam covered in a plush covering.
Since 1997 McFee Technologies is the leading designer, manufacturer and provider of face down post-operative recovery equipment for Vitrectomy (eye surgery) in the United States.  Our website details our many products that can be used for prone positioning and that are available for rental, some items may be available for purchase.
From CNN: 'Such a simple thing to do': Why positioning Covid-19 patients on their stomachs can save lives
For more information on the EZ-Sleep, please call our consultants at 1.800.669.5323.
| | |
| --- | --- |
| $775 | Purchase* |
| $44.95 | Replacement disposable face cushion |
*These items are made to order so please allow 2-3 weeks plus transit time for delivery from date of order placement.
*This page is not intended as medical advice.  Consult your physician before using the EZ-Sleep for face down positioning.