McFee Medical Technologies manufactures its own vitrectomy equipment following stringent guidelines.  All units are ergonomically correct, sterile, extremely strong and adaptable to most body sizes and builds.
You will receive more equipment for the same price or less, including professional service, free ground shipping, free insurance assistance, free set-up consultation, free rental of a Travel Cushion and Majicview™ Mirror, a free water bottle, a free DVD and printed instructions.
Please allow us to assist you in any way we can. Contact us today!
Click here to view our Packages and Pricing
EZ Chair with plush face cushion

McFee Medical Technologies is excited to introduce the EZ CHAIR – The first and only post-operative vitrectomy support chair that has been exclusively designed for face down positioning and a successful recovery from vitrectomy surgery.
This ergonomic and technically advanced chair offers comfort and safety features not found on any other vitrectomy chair. It is the only chair that lets you easily adjust your position without having to get off of the chair by simply pushing a button.
Fully automatic, electrically powered; control with a push button remote
A step through design
Fold up knee pads
Nine adjustable points of motion
Memory and High Density Foam
Anti-Bacterial, Latex Free Vinyl
Lightweight aluminum construction
High Quality Castors for Easy Portability
UL Listed Power Supply
We put our 18 plus years of experience in post-operative vitrectomy recovery and face down recovery equipment to work in the design and construction of this chair.
Watch the EZ Chair YouTube video
EZ SLEEP with plush face cushion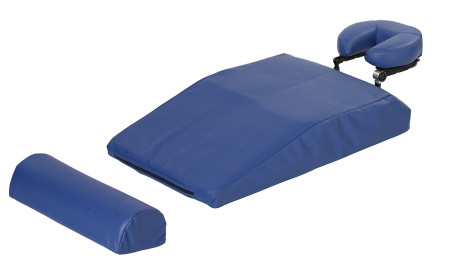 The EZ Sleep Support System, designed and manufactured by McFee Medical Technologies, is the most versatile and comfortable sleep system available. It is a must for anyone who is required to sleep face down after vitrectomy surgery.
The EZ Sleep can be configured and used in three versatile ways. First, it is designed for night-time use on top of a bed. Second, it converts into a table-top unit for use during the day. Third, the face support portion of the EZ Sleep is used with the Travel Cushion for use on any chair, sofa or in an automobile.
When used on the bed or couch, the EZ Sleep performs three vital functions:
It gently supports you in the face down position to help prevent rolling over in the middle of the night.
Its ergonomically correct design elevates the upper torso to reduce lower spinal compression and back pain.
It elevates your head off of the mattress so you can breathe easily.
When used on a table top: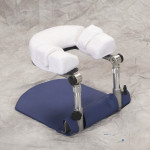 It provides a comfortable face-down option for eating, playing games, watching TV and conversing.
When used in conjunction with the MajicView™ Mirror, you can see 180 degrees around the room without lifting your head.
Its ergonomically safe design helps to prevent neck and back strain.
When used in conjunction with the Travel Cushion:
You can sit on any chair, sofa or car seat and remain face-down.
When used in conjunction with the MajicView™ Mirror, you can see 180 degrees around the room without lifting your head.
It provides infinite options for your mobility, i.e. take it to church, pot luck dinners, doctor visits.
Specialty Body Cushions
McFee Medical Technologies will customize the EZ-Sleep in any vitrectomy equipment rental package with specialty body cushions to meet the individual needs of each patient's body type and physical needs. Only available from McFee!
SEATED SUPPORT with plush face cushion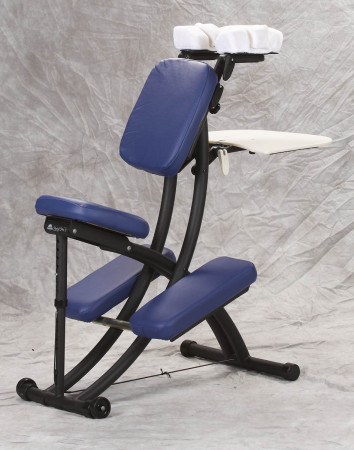 The Seated Support by McFee Medical Technologies lets you get up and out of bed to enjoy life.
The Seated Support positions you in an ergonomically correct seated position and features an adjustable work desk. Use the work desk for eating, doing crafts, playing games or simply as an arm rest. Set the MajicView™ Mirror on the work desk and see 180 degrees around the room without lifting your head. Enjoy television and visiting with friends. The ergonomically correct design provides back and neck support to eliminate discomfort or stiffness.
The Seated Support is easily transported on its convenient built-in wheels… take it outside on your patio or porch or move it from room to room. When not in use, the Seated Support can be folded and rolled out of the way.
ROLL OVER ALARM
The exclusive Roll Over Alarm allows you to sleep in peace without the worry of rolling over and not waking. An audio alert sounds if you move from the face down position.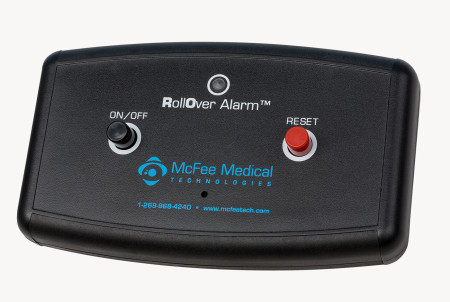 FACE SUPPORT with plush face cushion
The Face Support System, designed and manufactured by McFee Medical Technologies, provided the ultimate in table top or off-the-end of the bed support. The Face Support is adjustable to any height or girth and offers you many daytime activity options. Covered in anti-microbial vinyl, the Face Support features comfortable face padding to support your forehead and cheekbones while allowing you to see.
When configured for the table top, you can do crafts, eat, play games, converse with friends.
When configured for bed top, use alone on top of the bed or the couch for peaceful, comfortable rest, or use in conjunction with our arm rest off the end of the bed for additional airflow and TV viewing with Travel Cushion.
DISPOSABLE FACE DOWN SUPPORT SYSTEM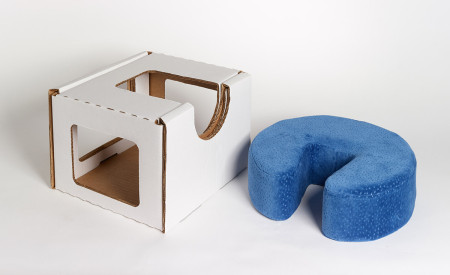 The McFee Medical Technologies Disposable Face Down Support System is an exclusive lightweight alternative for your recovery.  Click here to find out more.
MAJICVIEW™ MIRROR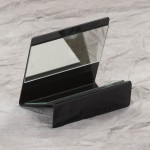 Rental Included FREE in every package!
The patented MajicView™ Mirror by McFee Medical Technologies works like a periscope to let you view objects straight ahead of you while keeping your head in the face down position. You can use the MajicView™ Mirror to watch TV or simply visit with friends. Feel part of the action by seeing your friends faces – not their shoes. Use the MajicView™ Mirror in conjunction with all McFee Medical Technologies equipment!
TRAVEL CUSHION
Rental Included FREE in every package!
McFee Medical Technologies developed the travel cushion to let you remain face down while on the go.
The travel cushion can be used with components of either the EZ Sleep or the Face Support to remain in the face down position while sitting on the couch or in a car.
Don't be fooled by copies – use the original travel cushion.
ACCESSORIES
McFee Medical Technologies offers a line of vitrectomy equipment accessories to make your recovery more comfortable.
Synthetic Fleece Crescent Pad Cover – for the ultimate softness and comfort.
Arm Rest – The arm rest is used with the Face Support when you use the Face Support to sleep with off the end of the bed.
Flannel Cover – additional set (not shown).
Ready to rent or purchase your vitrectomy equipment?  Let us help.
Click to view Packages or Order Online now.