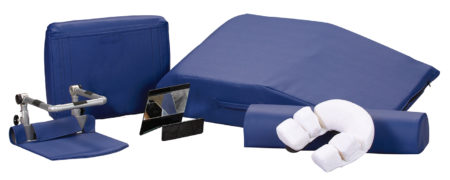 Our Flex-System Comfort Package provides you with fewer pieces of equipment than the other packages, but with minor reconfiguration, can be adapted for use in any room of your house
This package includes:
EZ Sleep not only ensures a good night's sleep, but can be reconfigured for daytime use on any tabletop surface, or to use in conjunction with the Travel Cushion to sit anywhere in the house.
Additional FREE Rental Items:
Majicview™ Mirror allows you to see 180 degrees without lifting your head… perfect for watching TV or conversing with a friend.
Travel Cushion to use in any chair, sofa or car
Crescent Pillow
Three Pad Pillow
Flannel Covers
Phone Consultation for Setup
Flex-System Comfort Package
| | |
| --- | --- |
| $140* | Week 1 |
| $97 | Additional Weeks |
| $22 | Additional Days |
*one week minimum, fuel surcharge may apply
Reserve Your Flex-System Comfort Package Now!